While visiting the St. Anne's Day Centre in Brighton I was told about an inspirational organisation that visited once a month to give haircuts to people experiencing homelessness. The network, Haircuts4Homeless, was founded by Stewart Roberts and has 68 projects across the UK & Ireland, with 600 hairdresser volunteers who have given over 40,000 haircuts. One of the local hairdressers involved is Leanne Clark (photo centre). I caught up with her over a coffee to find out more.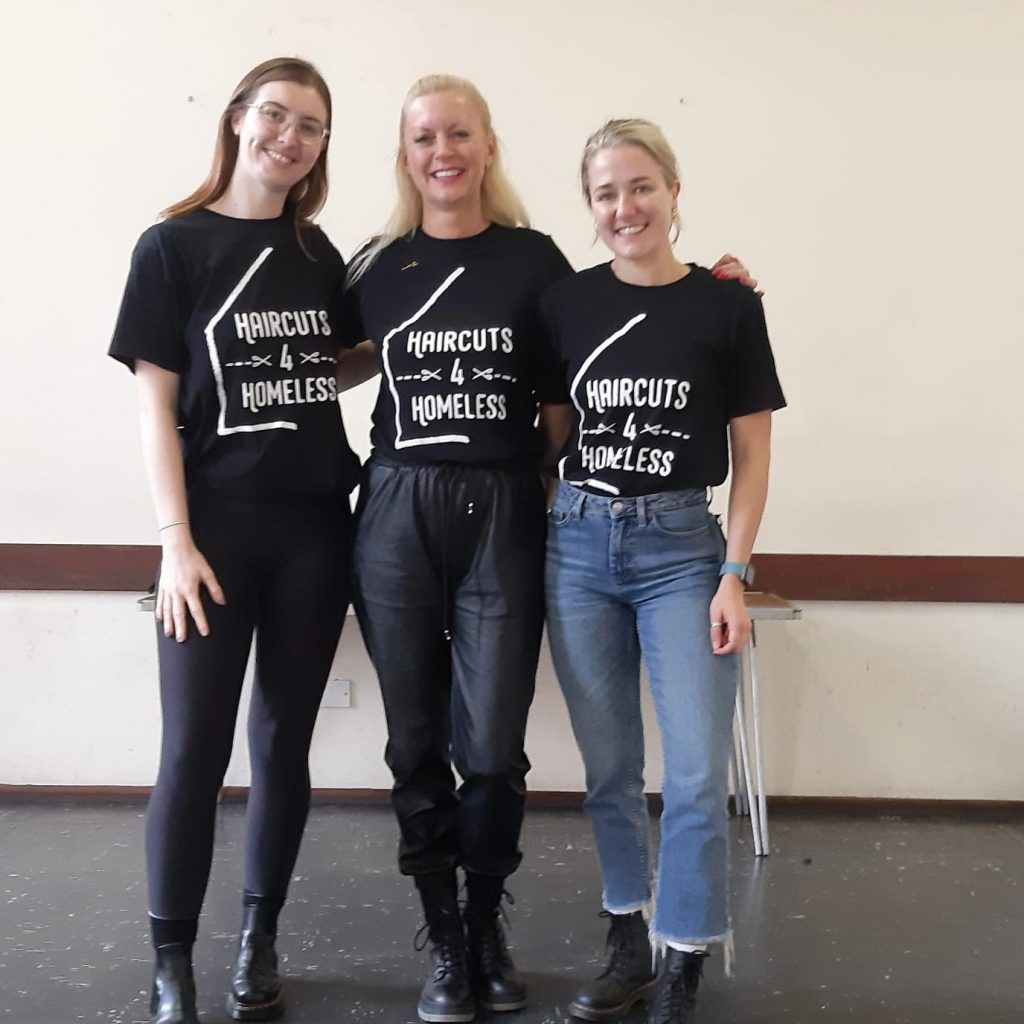 Hi Leanne, when did you first get involved with Haircuts4Homeless?
I've been cutting hair for 33 years. I got involved with Haircuts4Homeless about three and a half years ago after seeing a post on my Facebook feed looking for volunteers.
What effect do your haircuts have on your clients?
That's actually quite interesting. Many are initially quite intimidated by us, just as we are by them. You try and get a little bit of conversation going then I think you become more comfortable with each other. It's interesting to see how they hold themselves differently at the end. I think there's something therapeutic and very intimate about it. I find that for many homeless people it's about someone taking care of them for change and giving them a chance to relax, which obviously is hard to find when you live on the streets.
There is something special about any profession that lays hands on people. Human touch instantly breaks down barriers, particularly in these disconnected times. These are people who frequently say they feel invisible and lonely so for someone to touch them and have a conversation means the world and is a really beautiful thing to witness. It gives them a little bit of self-confidence and they really do seem to leave us a different person.
Where do you do the haircuts?
We hold a session once a month at the St. Anne's Day Centre on St. James' Street. I'm joined by other volunteers. There is always at least two on the team, but sometimes up to five, which is brilliant because then we can get through everyone.
They put their names down on a list and we work through it as quickly as we can. We do as many haircuts as we can in two hours. They take a seat, we spray their hair down and cut it with clippers. There's no time for hair washing.
Tell me a bit more about the founder of Haircuts4Homeless, Stewart Roberts
Stewart started Haircuts4Homeless by accident in November 2014. He was volunteering at a Salvation Army in Essex, talking to people about addictions as he is 15 years sober. As an experiment he brought along his scissors to give some haircuts. After putting some of the pictures up on Facebook, some other hairdressers soon got in touch to say they would like to help and it has grown from there.
Stewart also does podcasts called "Hear Me, See Me." where he interviews both celebrity guests and also the amazing unsung heroes who work in the homeless centres. It is available on Spotify, iTunes, YouTube, Acast and Amazon Music.
He was just awarded an MBA for services to homeless people in the 2022 New Year's Honours list.
What does being involved mean to you personally?
Brighton has such a high homeless population. Now that I know how much they benefit from what I do, I just want to help them. It's giving something back to the community.
Do you have any plans for the future?
I'd love to see them expand down here in Brighton so that I could do it more regularly but we need more volunteers for that. I think twice a month would be really good. Sometimes we have so many people on our list that we can't get through them all and some will have to wait another four weeks.